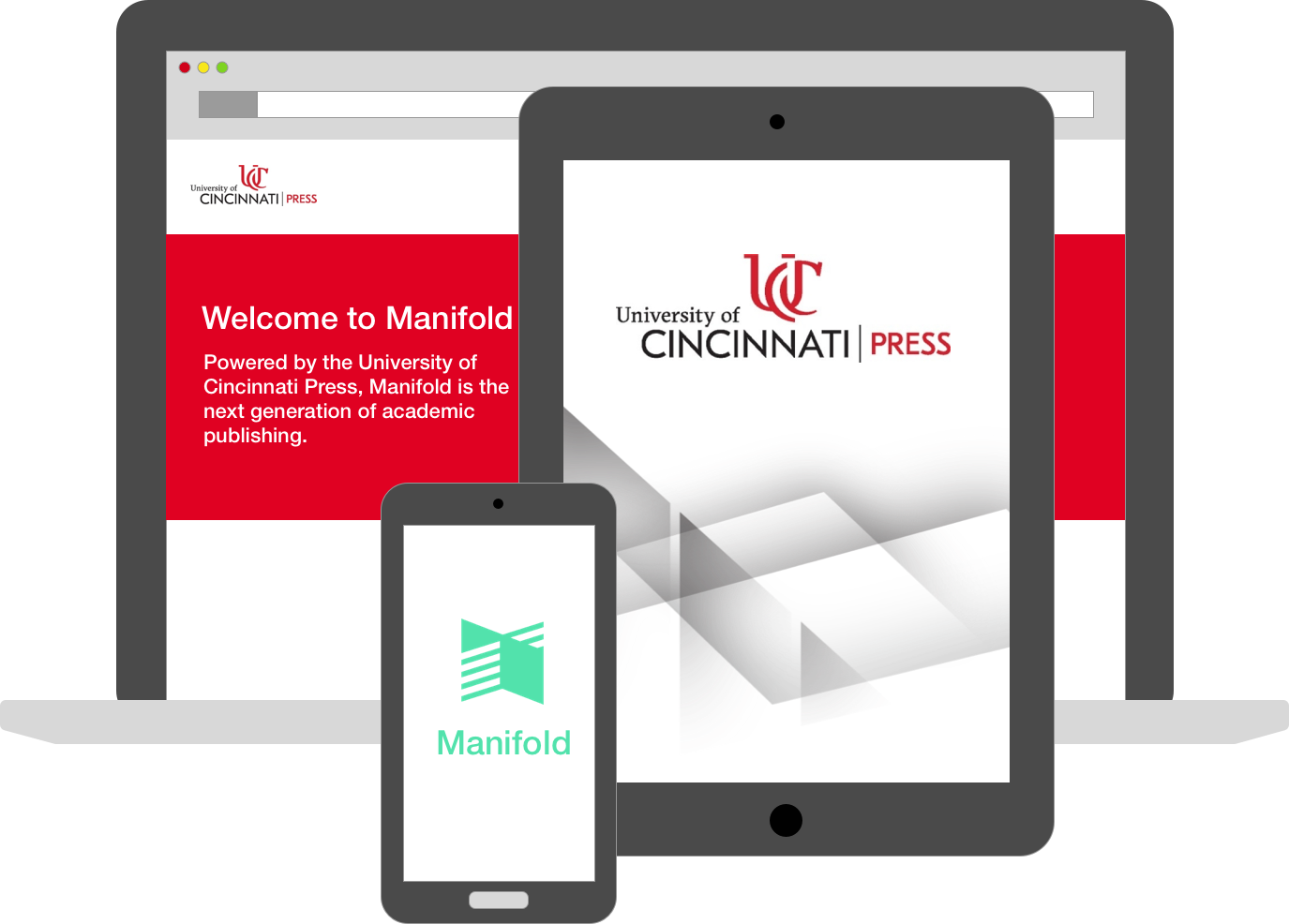 Welcome to the University of Cincinnati Press and Cincinnati Library Publishing Services open access titles.
Founded in 2017 as a fundamentally innovative and dynamic university press, the University of Cincinnati Press imprint publishes peer reviewed social justice and regional studies titles across all disciplines. Through our open access Manifold platform, the Press offers many titles free to all readers to shrink the distance between the author and the reader.

Our CLIPS imprint caters to university sponsored projects that highlight faculty and student intellectual output.

Browse all our open access content below.

If you want to get the most out of your experience, sign up for a Manifold account so you can highlight, annotate, and join in the conversations already happening in these projects.
Open Access Books
Open access books are peer reviewed and faculty board approved. The copyright is owned by the University of Cincinnati Press and they carry a Creative Commons License CC BY-NC
Platforms and Pathways in Service Learning
Service Learning (SL) is a specially designed learning experience at the University of Cincinnati in which students combine reflection with structured participation in community-based projects to achieve specified learning outcomes as part of an academic course and/or program requirement.

By participating in campus-community partnerships at the local, national, or international level, students gain a richer mastery of course content, enhance their sense of civic responsibility, and ultimately develop a more integrated understanding of the relationships among theory, practice, ideas, values, and community.

This Pathway, the second opened by University of Cincinnati Press, has been created as a destination for interdisciplinary collaborative work and to engage the broader higher education community. We encourage conversation and sharing across institutions and engagement by way of commenting and annotating and sharing.

Elizabeth Scarpelli
Director | University of Cincinnati Press & Library Publisher Services
Platforms and Pathways in Social Innovation: Racial Equity
In 2020, the United States was involved in sustained, diverse nationwide outrage the likes of which has not been seen in many areas of our country for decades. Headlines, news stories, social media and diverse voices fill the daily news. Startling images, alarming data, science, activism and uncertainty drive voices across socioeconomic groups with the hope of creating change. University press publishers participate in this movement in many ways—of note publishing intellectual output which offers clarity, disciplinary perspective and broadens the knowledge created through academic research, data, scholarly theory and original thought.



Racial Equity pathway and invite readers to engage with these open access excerpts by annotating, sharing and highlighting writing that you would like to call attention to and offer comment. Please create a Manifold account and join the dialog today.

Elizabeth Scarpelli
Director | University of Cincinnati Press & Library Publisher Services
Issues in Race and Society: An Interdisciplinary Global Journal
As the official resource of ABS, Issues in Race & Society is a double-blind, peer-reviewed academic journal. The biannual journal distinguishes itself as an interdisciplinary, comprehensive, and global examination of the increasingly racial and racialized world that connects us all. It provides a space where all voices can be heard and diverse conversations can occur about the relationship and interconnections between race, power, privilege, and location operating across cultures and societies.
Sample chapters
Browse sample chapters of published books and forthcoming works.
Conference pre-reads
Conference pre-reads are preprint chapters of forthcoming books that are the basis of or relevant readings for panel presentations. We post these ahead of conferences so that attendees can familiarize themselves with session topics and authors can engage with a broader audience.
This Project Collection is currently empty.